Granville Sharp tomb restoration, Fulham, London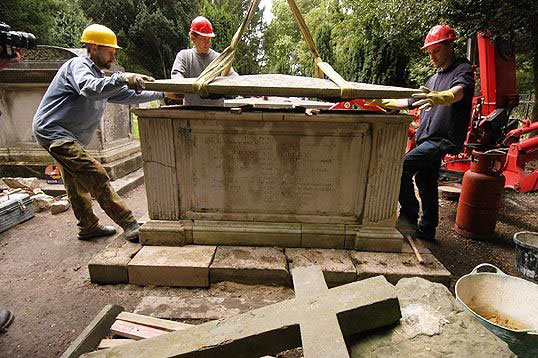 Interred in the churchyard around All Saints Church, Fulham, are the eminent mortal remains of many historical movers and shakers, Henry Tudor's doctor, one Lord Mayor of London and Eight Bishops of London. Fulham Palace, the remarkable main residence of the Bishop from the 18th century until the 1970's, lies next door. Many of the monuments to these are impressive worthies are worthy of note.

One of the simplest tomb chests is of a true 18th century giant, a man who was so controversial at the time that he was refused a eulogy in the church at his funeral. Below the tomb lie the remains of of Granville Sharp (1735-1813), acknowledged to be the father of the slavery abolitionist movement. Sharp has always been overshadowed by William Wilberforce, but it was he who founded the Society for the Abolition of the Slave Trade. Commemorated on Poets' Corner in Westminster Abbey his monument there records one, who took his post among the foremost of the honorable band associated to deliver Africa from the rapacity of Europe by the abolition of the slave trade.
The tomb was in a very poor condition, the 'Granville Sharp Working Group' was formed and chaired by John Sheppard, who became aware of the poor state of the Sharp tomb while carrying out a borough-wide survey of sculptures for the local Historic Buildings Group. The tomb was elevated to a grade II listing and the group was successful in raising the 15000 required for the work necessary for repair. The Portland limestone was suffering from subsidence within the vault, the effects of acid rain and rusting cramps which were applying huge pressures in the tops and bottoms of the ledger panel and the carved fluted corner pieces.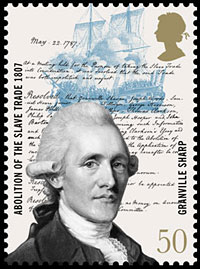 Minerva's tender was successful and we commenced work under the direction of Anthony Feltham King of Michael Drury Architects of Salisbury in June 2007. The project was duly completed in time for the Service of Remembrance on the nearest Sunday to the anniversary of Sharp's death in July 2007, which formed part of the celebrations for the bicentenary of the abolition of slavery.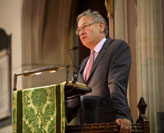 More than three hundred people came to the service to mark the completion of the work. The service included, prayer lead by the Rev Joe Hawes, music (Granville could play two flutes at once and signed his name G ) readings and a eulogy given by the well-known broadcaster Professor Simon Schama. Schama pointedly said that Sharp's great contribution was to "lower the threshold of shame" in society.
A wreath was placed on the tomb. Descendants of Sharp's family were there, and an imbalance was adjusted.