Semley, St Leonards, Wiltshire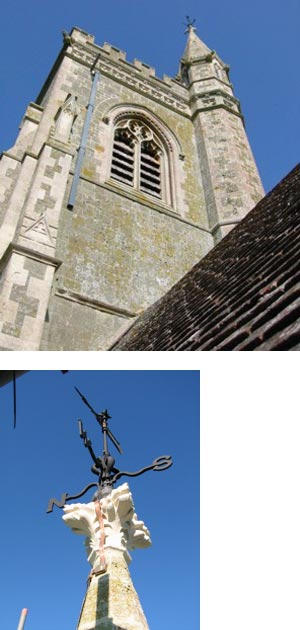 Semley church in the vale of Wardour commands the old East West drovers common land between Old Wardour Castle and the Victorian railway, erected in the 1860s by the local landowner - the Marchioness of Westminster, its ashlar construction is sourced from the local weirdly green Chilmark limestone, quarried deep underground amongst the labyrinth of a former MOD nuclear weaponry store .It is one of the outstanding Jurassic era Limestone's that occur around the periphery of "Chalk Wiltshire", it was used most notably since the 13th century for the fabric of Salisbury Cathedral.

The handsome west tower possesses a unusually high stair turret surmounted by a conical spirelet. Victorian Ironwork although glorious when employed at Liverpool street or the Oxford university Museum has a very poor reputation when embedded in the stone they were endeavouring to support.
The spirelet was supported and clamped down into position by a framework that was now jacking up the base of the spirelet with a gap of rusting iron of about an inch.
We propped the stonework, cut out the corroding iron and inserted a new stainless steel ring beam,internal framework and connecting weather vain/ cramp, during this process we had to copy carve a new finial to replace the original that was irreparably damaged by the iron. The tower was pointed and also repaired.