Tyntesfield House, near Bristol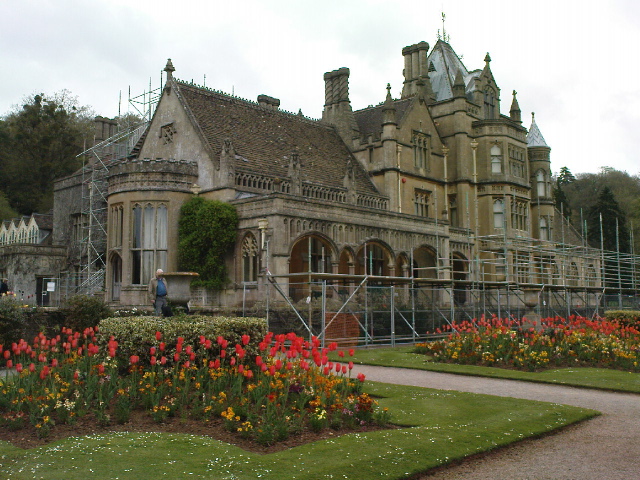 We won the exterior subcontractor stonework conservation and masonry package after a very competitive tender and interview process.
This extraordinary and atmospheric Victorian country house and private chapel is largely built of ochreous Bath stone with cheaper Draycott marble rubble walling to the servants areas. The main house was constructed between 1862 and 1864, its irregular and asymmetrical architecture emphasised by a muscular silhouette of chimney stacks, spires, pinnacles and uneven roof lines.
It is full of naturalistic carving, which we will be conserving and occasionally copy-carving new elements as well of miles of lime pointing and carving new mouldings and other more standard architectural details and weatherings. We have accurately matched the original stone with a Cotswold oolitic limestone from Veyzeys quarry nr Tetbury.
The Early-English-style chapel by Sir Arthur Blomfield of 1875 is of an astonishing scale adorned with pinnacles, which will need repairing (below right) and walls with serried ranks of gargoyles and grotesques (below left).
These are the early days of the project with the scaffolding erection taking place. It's worth the trip to see the scaffolding alone! (Chapel view).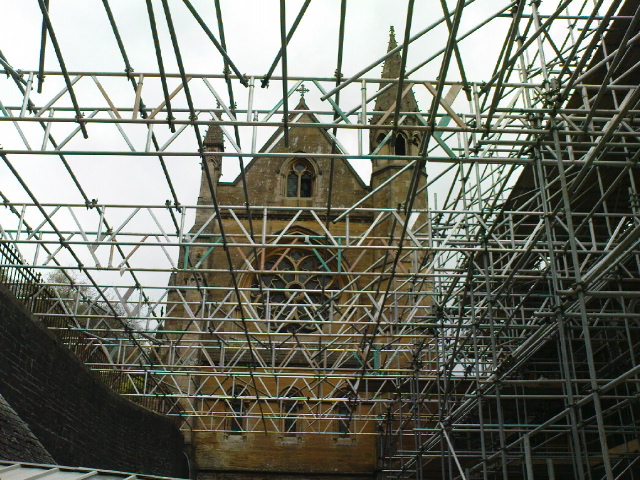 "Tyntesfield is a High Victorian Gothic house and working estate. The House is Grade I listed and a large part of the grounds are Grade II*. The project aim is to open up Tyntesfield to the widest possible audience through the development of vocational and non-vocational skills. Conservation, interpretation and building repair programmes will be established which would incorporate training, to secure the long term future and preservation of the estate".
This short assessment of the potential of the project was provided by the Heritage Lottery Fund and nicely sums up the project aims to which Minerva whole-heartedly subscribes.