Manor Farm House, Meare, Somerset.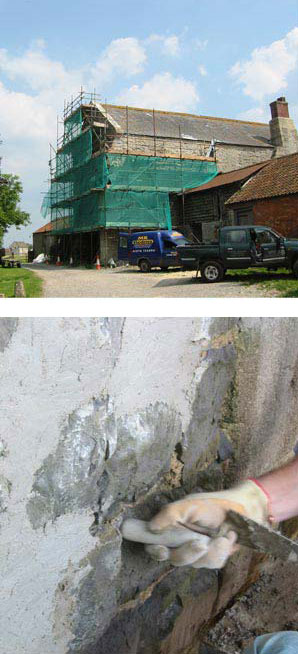 In 2005 we had the privilege to work in the heart of the Somerset levels at the Manor Farm House, Meare, Somerset. Dating from the 14th century with some C16-C17 fenestration, it is an extraordinary survival with many original features, and is of outstanding architectural interest.

Once the property of the Abbots of Glastonbury and one of their residences, there is documentary evidence of habitation at Meare from at least 1252 but the present building is probably of the time of Adam of Sodbury (1323-1334).

Dendrochronological analysis of timbers supporting the first floor supported the Abbott Sodbury date with a likely felling date of AD1315-43, probably towards the beginning of the range.

The stonework of coursed and squared Blue Lias rubble was in a very tired condition as were much of the Doulting freestone dressings. The interior has a remarkable former open hall with many features of the 14th ce , such as a large fireplace with stone hood it is supported with three girt great corbels the size of tv sets!

The projecting 2 storey porch has a front facing ogee gable with a coping rising to an apex with a finial in the form of a much weathered stone figure in robes and mitre; postulated as Abbot Richard Whiting of Glastonbury.

Because of the extent of original stone work a decision was reached to conserve every saveable fragment of stone by full flush pointing/rendering thus maintaining the archaeological integrity and visibility of areas such as different construction phases, behind the scenes we introduced a heritage grout to the cavities behind the walls and further consolidated with Cintec ties.

The Porch figure was pinned and repaired after damaging ironwork was removed and the abbots head readhered, various architectural elements were replaced with newly carved stonework. Best of all Violet my daughter was born whilst this job was on going.