Bath Roman Baths
In the winter of 2009 we enjoyed working within the Roman Baths complex in the city of Bath. We carefully moved and redisplayed many carved Roman stone artifacts, such as altars and tombstones, as part of the redevelopment of the galleries of the museum. We are also carrying out dirt removal and conservation work to many of the monuments.
We are working to rearrange, improve the quality of the fixings and conserve architectural elements on the famous 'Gorgon's Head' pediment from the principal roman temple to Sulis Minerva (from which we were inspired to take our name and logo). The central element of the triangular pediment is the gorgon's head symbol for Sulis Minerva which surmounted a frieze and four large, fluted corinthian columns.
The oolitic limestones of the Bath and Cotswolds series provide an excellent medium for sculpture. The carving is solid and may be interpreted as 'provincial'. Early Roman sculpture in South West Britain was strongly influenced by craftsmen from the continent (especially northern and eastern Gaul).
Local stonecarvers may then have been trained by them as there was no tradition of the use of stone with native artists for whom figurative work was a new art form. This creates an interesting symbiosis of styles when it appears within the classical context. The mustachioed gorgon's head (unusually depicted as a male) with his prominent almond-shaped eyes, lush snake-filled hair and stylistic 'frontality' characterises many aspects of Romano-British sculpture in the south west.
Download our Health and Safety report for this project here (6mb PDF file)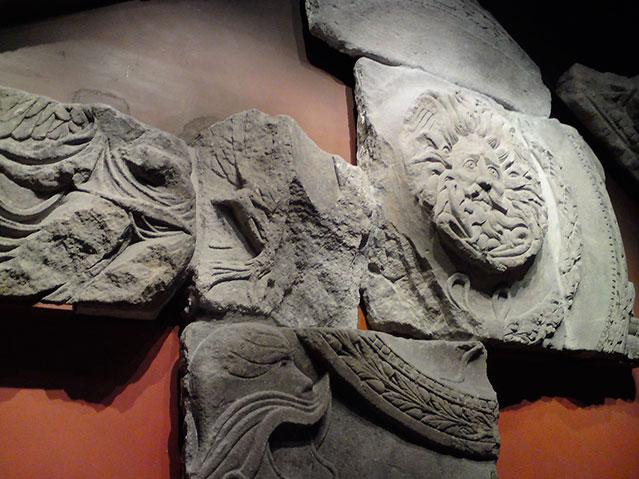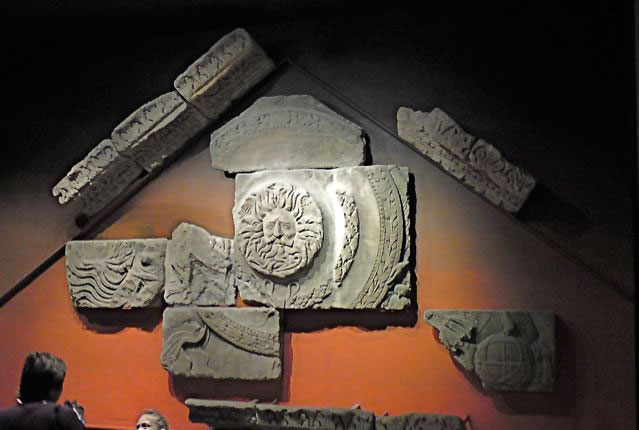 Below: carefully lifting sections of a large mosaic.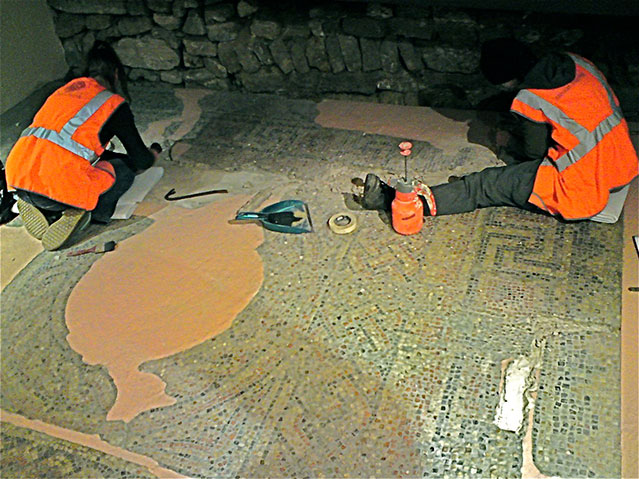 Above: Head of a Flavian Lady

We removed this bust from an unusual Victorian marble plinth which was originally constructed to display a bust of Jane Austen. It was probably from a rather grand tomb to a lady and came from the area of Bath known as Walcot Street (Walcot means 'Cottages of the Britons' in Old English) where one of the main Roman cemeteries stood outside of the main city walls. Her hairstyle of curls and tight bun at the back were fashionable during the Flavian period (AD 69-96). It is interesting to contrast this figure with one from the same period (AD 90) carved in Carrara Marble on display in the Museo Capitolini, Rome.

This photo shows 2 different reliefs, both involving dogs. Roman writers, such as Strabo and Tacitus, admired hunting dogs from the province of Britannia. The top depicts a mastiff carrying a deer, the lower relief a sight-hound straining at a lead as it is about to chase a hare.

It has been suggested that this may depict the soul leaving the body, as it may have come from a tomb. These were removed from their display mountings and redisplayed after small scale dirt removal and conservation.
Below: our gantry having moved Roman gravestones into their new position.