The Minerva Workshop
Our fully equipped stonemasonry (or Banker shop as it is known within the industry) and conservation workshop, based in Frome, Somerset, compliments our other in situ and site based works, with large floor space, cranage, and a range of analytical equipment. This means we are able to work on a wide variety of pieces, from small decorative sculptures to large public monuments.
The workshop is used for figurative carving, letter-cutting and the production of architectural stone detailing such as finials, pinnacles and mouldings mainly in Bath, Chilmark and Portland stone as seen below.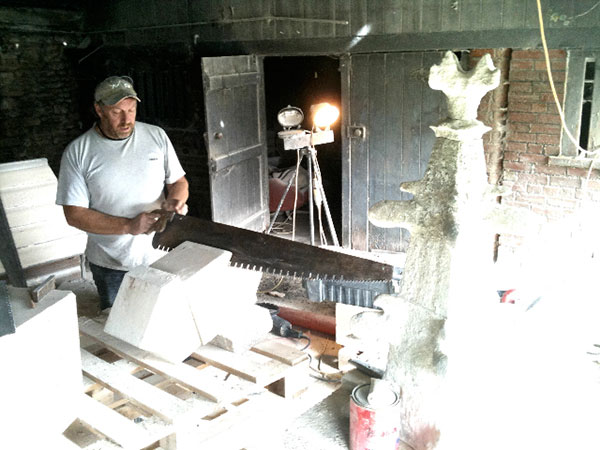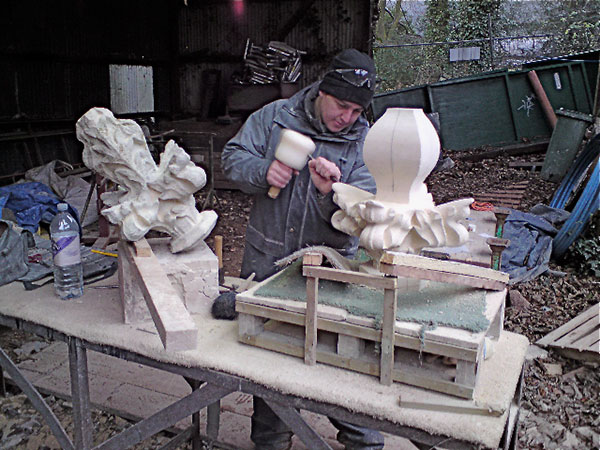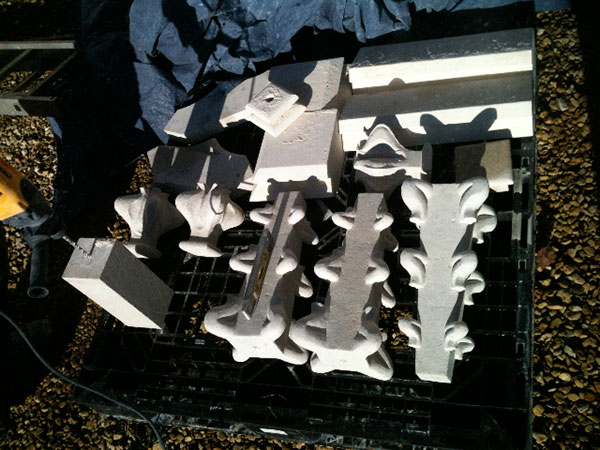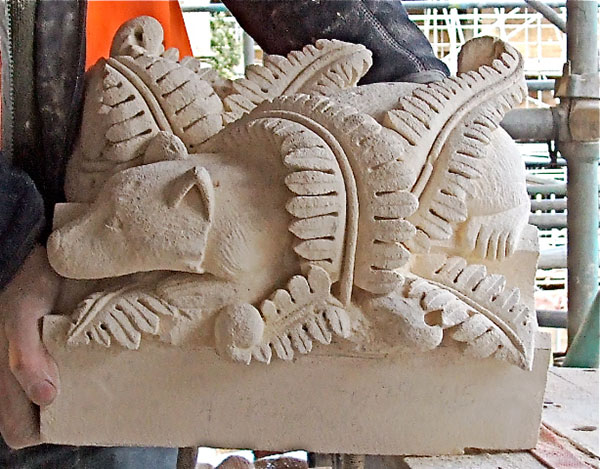 ---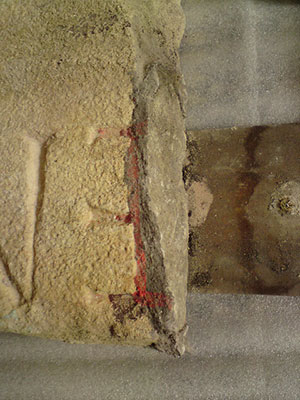 A recent small project undertaken at our conservation workshop is illustrated by this sequence which shows our conservation work to a fragment of an inscribed Limestone Romano/British tombstone, dedicated to Cornelianus.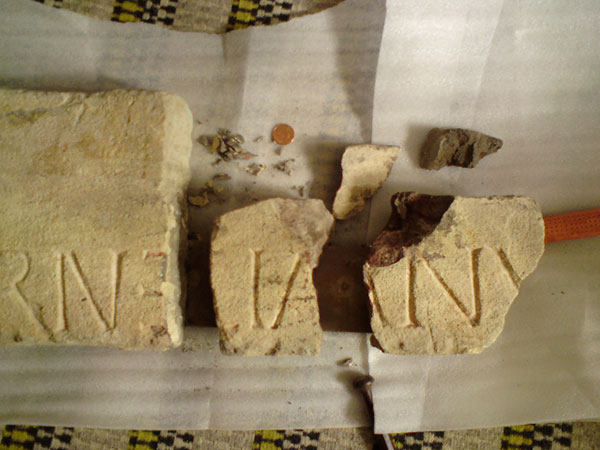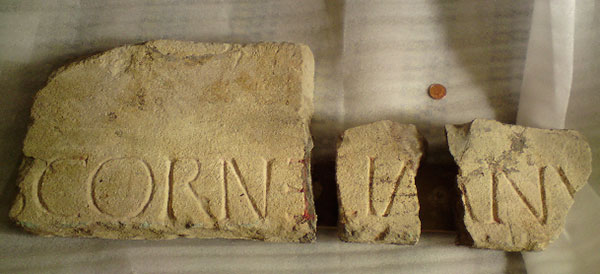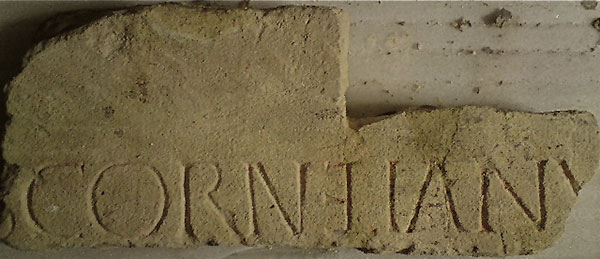 This last photo shows the stone in its new position in the Roman Baths museum in Bath, UK.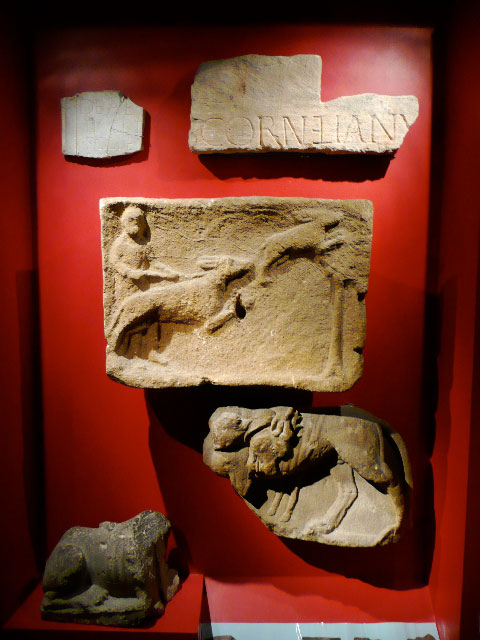 ---

Please follow this link to see how one of our regular clients views our work. Click here for article
The workshop is managed by 2 of Minervas' senior staff, Christina Kay and Neil Pickering (seen here, repairing a fine Jacobean plasterwork ceiling) their resume's are outlined below.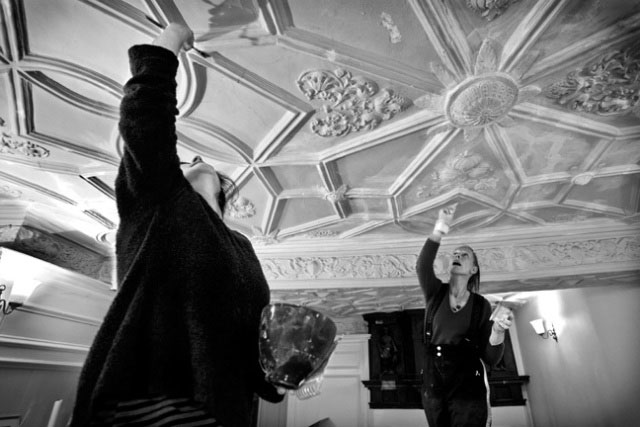 CHRISTINA KAYE.
Christina Kaye has twenty-five years' experience in building, monument and sculpture conservation beginning in 1981 with a three-year apprenticeship on Wells Cathedral West Front under Professor Baker.
She has subsequently worked on a wide variety of buildings and artefacts, such as:

Wells Cathedral Cloister Monuments
A high-relief carving by Eric Gill in limestone

Winchester College medieval figures and niches

Salisbury Cathedral West Front figures

Temple of Harmony limeplaster conservation
Tower of London monuments report

She is experienced in a wide range of conservation techniques including the many uses of lime; casein repairs; marble, sandstone and polychrome cleaning, repair and consolidation; and decorative lime plaster cleaning, repair and consolidation. Christina sees clear, detailed reports of works completed as an essential part of the conservation process. On a more personal note, she says that, " I care for our architectural heritage and strongly believe in quality, integrity and honesty in all that I do as conservator both for my generation and the generations to follow".
NELL PICKERING.
Nell Pickering has had 15 years experience working in conservation, beginning with a four year apprenticeship with St Cuthbert Conservation which started in 1992. Having worked as a community artist prior to this she already had a keen eye for form, line and colour, a practical understanding of many different materials and an ability to manage many different age groups. She joined Minerva Conservation in 2004 and has overseen conservation works at St Stephens Church tower and the lime conservation project at Newton Park (Bath Spa University), among others. Recent work includes:

Repair and re-modelling window tracery at Chedzoy Church

Extensive lime conservation works at Axminster Church

Polychrome conservation and re-lettering to Maximillian Noreys monuments from the church of St Hellier on Jersey.

Re-modelling volutes and acanthus leaves at Newton Park, Bath Spa University